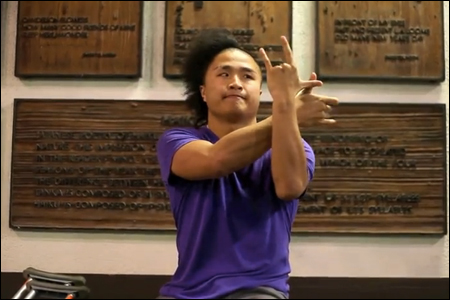 This is good stuff. Check out Hokuto "Hok" Konishi, whose slick moves you know and love from Quest Crew, doing a crazy little solo thing in this video:
Super Mario Fingers
. And he never even stands up! Just a lot of funny looks and frantic fingers. Fun stuff. Take a look:
Hok recently injured himself during training. Thus, the crutches. If you've seen him dance, the guy does some pretty explosive stuff, so it must have been pretty devastating to be immobilized like that. Still, pretty amazing what you can do with just fingers. In his own words:
2 weeks ago I partially tore my achilles and paroneal tendon during training. I was so shocked and gutted that I could not dance like I usually do, however I thought that I needed to change this negativity into a positive one. although things may be limited at times, let's try to figure out with the resources that we currently have.

super mario + dancing with fingers = Fun:)
For more from Hok, check out his YouTube channel
here
. For more from Quest Crew, check out their website
here
. And if you're in Southern California, you can check out Quest Crew performing this Saturday at the
Thousand Hearts Japan Relief Benefit Concert
in Pasadena.