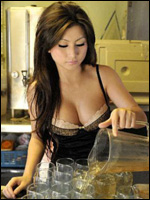 Bad news for all you dudes who like your coffee, tea and smoothies served up with a little bit nudity, gambling and prostitution... In Orange County cities, authorities are cracking down on the many Vietnamese cafes where waitresses dressed in sexy lingerie -- and sometimes less -- are the norm:
Orange County authorities cracking down on Vietnamese cafes
.
It's not necessarily the sexy waitresses that's the problem. The city could apparently handle that. It's everything else that comes along with it. As more and more of these establishments pop up, some cafes are escalating to more risque and downright illegal activities -- like gambling and nudity -- to stay competitive:
The cafe is one of about 20 in this Orange County city, which includes part of Little Saigon, one of the largest Vietnamese American enclaves in the U.S. It also is among those raided in March by more than 150 federal and local law enforcement officials, exposing an underbelly of what police say includes nudity, gambling and prostitution.

Even the Garden Grove police weren't prepared for what they found.

"We were shocked," Sgt. Tom Dare, with the department's special investigations unit, said of the proliferation of arcade-like gambling machines. "A lot of these places want to be legit, but how do they compete with these other businesses? It's almost a chain reaction, where one business tries to one-up another."

In the raid, police seized 186 arcade machines that they say can be turned into a keno or blackjack machine with the push of a button. Also confiscated was more than $145,000 in suspected gambling profits, including $35,000 from one cafe alone. The investigation is ongoing.
Is any of this really surprising? Bikini tops give way to exposed underboob, which eventually lead to straight up nekkid breasts, with a slot machine or two on the side. Definitely not family-friendly establishments. But with authorities starting to tighten up regulations on these joints, the girls have to cover up. And they better start serving some damn good coffee. More here:
Garden Grove wants cafes to be less sexy
.