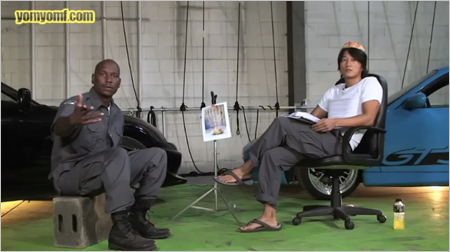 A bit of silly fun from the folks over at You Offend Me You Offend My Family... Check out
Fast Five
star Sung Kang in the latest edition of
Car Talk
featuring co-star Tyrese Gibson. But first, you should probably watch the
premiere episode
of
Car Talk
to get up to speed. He's sort of the evil jerk doppelganger version of Sung Kang... or is he? Now, here's
Car Talk 2
:
Damn funny. Tyrese is a hell of a good sport. Here's a totally true (but not really) account of how this came together, according to Sung:
It all went down a little like this... We were in Rio, or was it was Milan, maybe it was Rome. Actually I think it was Georgia. Tyson and I were hanging out one night debating the ethics and politics of Socrates and Plotinus. We shared ideas and for kicks solved hard math problems like Fermat's Last Theorem. Before I knew it the night flew by, as I was about to start my 18 mile jog home Tyson stopped me and poured his heart out about his passion project 'Ktown'. The whole time I was thinking to myself…"what do you know about KTown!? And I wonder what kind of moisturizer he uses on his head?" After hearing him out for 11 long but joyful hours... all can say is he's definitely one of the good guys! The next day when Justin and I finished our training session with the Navy Seals Special Forces Unit Code Black Cobra Battalion, he suggested I do a Car Talk episode with my new #7 Best Friend Tyson. I was like, Huh? What do we talk about? Well what do you think??? CARS OF COURSE!!!!
And there you have it. This premiered last fall at the San Diego Asian Film Festival, and preceded the Los Angeles Asian Pacific Film Festival's Opening Night screening of
Fast Five
. If you ask me, subsequent editions of
Car Talk
with Sung Kang should be presented in front of all future
Fast and Furious
movies, from here on out.