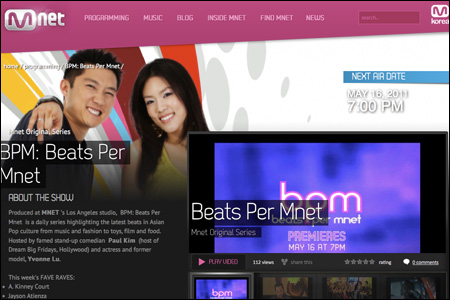 If your cable provider carries Mnet, check out the premiere of
BPM: Beats Per Mnet
, a new daily series highlighting what's going on in Asian pop culture. Produced in Los Angeles, the show is hosted by buddy Paul Kim, aka PK -- standup comedian and founder of Kollaboration -- and actress/model Yvonne Lu. Here's a description of the show:
Beats Per Mnet (Mnet original series - premieres on Monday, May 16 and airs daily Monday – Friday at 7pm and 10pm ET/PT). Produced at Mnet's Los Angeles studio, Beats Per Mnet (BPM) is a daily series highlighting the latest beats in Asian Pop culture from music and fashion to toys, film and food. The show features in studio interviews, on location segments, celebrity interviews, music videos and more. Hosted by famed stand-up comedian Paul Kim (host of Dream Big Fridays at The World Famous Laugh Factory in Hollywood and has been the host of Asian Nights at The Laugh Factory for over seven years) and actress and former model, Yvonne Lu.
I am always down to see more original Asian American-centric programming on prime time television. I was actually recently in the studio to tape a segment. Don't know exactly when it'll air, but it was a lot of fun hanging with PK and Yvonne and I hope you Mnet watchers will be able to eventually catch it.
BPM
premieres today, May 16 and air weekdays at 7:00pm on Mnet, with repeat showings on the network. For more information about the show and upcoming guests, go to the the Mnet website
here
.