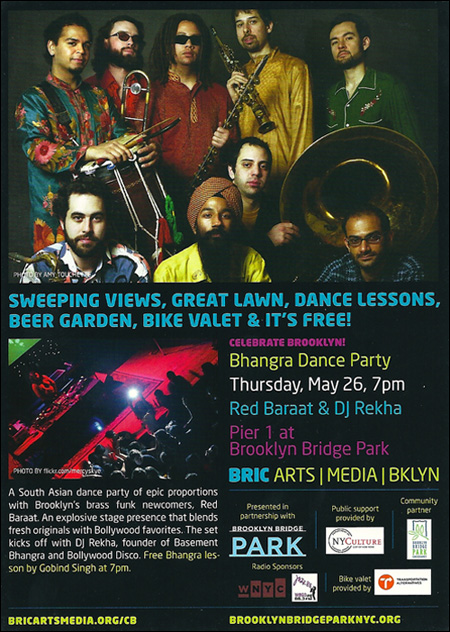 Awwww yeah, Brooklyn. This Thursday night, you're invited to a
Bhangra Dance Party
of epic proporations featuring the fresh brass funk of Red Baraat and the basement beats of DJ Rekha. It's happening May 26 at 7:00 at Brooklyn Bridge Park. Here's a
promo video
to get you hyped:
Here are some more details for your cut-and-paste needs:
CELEBRATE BROOKLYN!
BHANGRA DANCE PARTY

May 26, 2011
7:00 PM
FREE

Pier 1 Brooklyn Bridge Park
Brooklyn, NY 11201

A South Asian dance party of epic proportions with Brooklyn's brass funk newcomers, Red Baraat. An explosive stage presence that blends fresh originals with Bollywood favorites.

DJ Rekha is a cultural instigator that has put bhangra music on the map in North America. Not just an authority and scene creator for South Asian dance music, Rekha is recognized as a selector with an extraordinary musical range. Her legendary club night, Basement Bhangra®, is in its 15th of monthly sold out shows. She was named "Ambassador of Bhangra" by the New York Times as well as "one of the most influential South Asians in the United States" by Newsweek. Rekha's other musical work include sound design for the TONY winning Broadway Show, Bridge and Tunnel. Her seminal debut album, DJ Rekha presents Basement Bhangra was released in 2007. She has DJed across the world including 2 gigs at the White House. Rekha also teaches at the NYU's Clive Davis Institute of Recorded Music and is launching her own record label.

Free Bhangra lesson by Gobind Singh at 7pm.
That's right, people. You read that right -- free Bhangra lesson. Get there at 7:00pm to get in on that. For further information about the party, go to the BRIC Arts website
here
.