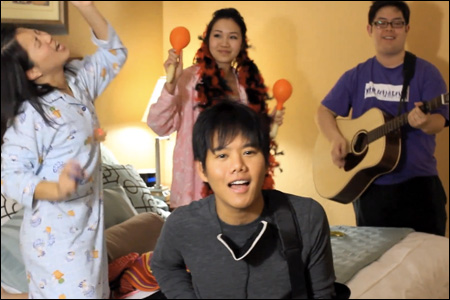 Check out this music video for
"At This Hour"
by my buddy singer/songwriter Scott Tang. Forgive me, because I meant to post this when it was released a few months back, but it just got buried under a pile of stuff. Nevertheless, better late than never -- I wanted to make sure I shared it, because it's a lot of silly fun. Take a look:
Fun stuff. If you couldn't tell, it was a low-budget production. Scott tells me he and the band just rolled into a hotel one night and shot it, no big deal. You can also watch some outtakes/deleted scenes from the video shoot
here
.
"At This Hour" is off of Scott's recently released album
A Portrait Of The Artist As A Young Insomniac
, which is described as "electronic singer/songwriter stuff." For more information on Scott Tang and his music, check out his official website
here
and go to his Facebook page
here
.