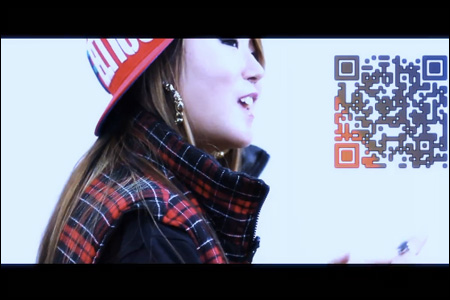 Check out the freshly dropped music video for
"Get Up and Go,"
the brand new single from Los Angeles rapper Shin-B, bringing you that next level, cutting-edge, high-tech craziness. Very slick and nicely produced, and hot tune to boot. Got your smartphones ready? Take a look:
The video was directed and produced by
DuNo Tran
. All of the QR barcodes in the video are readable using any free smartphone barcode scanner app. Ooh, interactive! Andrea explains:
We wanted to create a video that was relevant for today's time and extremely innovative. We were tired of seeing the same old videos, so we dug deep outside of our box to bring you this. We believe in being CUTTING-EDGE and being a cut above the rest. Who really wants to see another boring ass video? NOT US! In this innovative and original MV, viewers can use any free smart phone app for barcode reader/scanner to scan any of the barcode images seen. I recommend the RedLaser app. It's free and easy to use! Stay tuned though… later on, we WILL be having MAJOR CONTESTS with FREE PRIZE GIVEAWAYS. You have to keep watching the video though because it will continuously change and it will have messages where you need to scan the barcodes to WIN! Trust me, the prizes are extraordinary. We are talking about FREE SMARTPHONES, MAC computers, and clothing by Korea's top streetwear brand, FELTICS.
Whoa. With the changing barcode messages, it's kind of like a new video every time you watch it. Fun stuff. For more information about Shin-B and her music, check out her official website
here
and her Facebook page
here
.