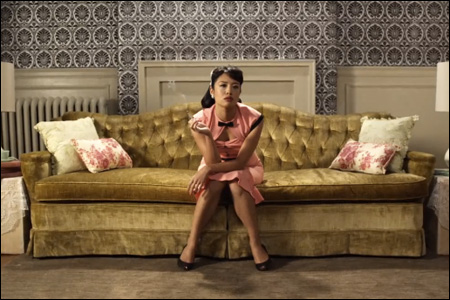 Our friend Emily C. Chang passes along this crazy-ass music video she created with her producing partner Ray Archie for the song
"Need You Near (The Happy Nunchucks Song), "
which appears on the indie film
Colin Hearts Kay
. Hot stuff, with some great production values (not to mention that Emily looks crazy good). See her dance with cartoons and tear the heads off teddy bears:
Cool video, though I am disappointed the severe lack of actual nunchucks. Emily and Archie are the musical duo
em.KING
, described as "part lo-fi indie quirk, part Badu-style folk-soul," though "Need You Near" is a departure from their hip hop-influenced past.
Emily is currently working on an album of ambient electropop with Chicago's Actually Records You may know her from her poetry roots as a founding member of the influential hip-hop/spoken word group I Was Born with 2 Tongues. And when I say influential, I mean extremely influential on me and this blog.
For more information on em.King and their music, go to their website
here
You can also check out Emily C. Chang's official website
here
.