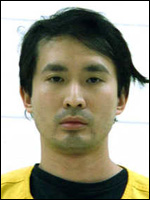 Asians behaving badly... serial flasher edition! Last week's police finally arrested a man who's been wanted for multiple incidents of indecent exposure in Penn State dorms and nearby apartments over the past
two years
. Caught in the act, sucka. Meet 33-year-old serial flasher Ryan Ho:
Man charged for dozens of acts
.
Three police agencies have charged Ho in at least 18 separate cases, including 15 counts of burglary, 18 counts of criminal trespass, 17 counts of indecent exposure; four counts each of indecent assault and loitering and prowling at night time, and three counts of open lewdness, as well as one count of criminal attempted burglary, a felony, and four summary harassment charges. Dude is a sicko:
Penn State police filed charges in 12 cases, all involving a man who entered residence halls and other campus buildings, found women alone in their dorm rooms, lounges, laundry areas, restrooms, even laboratories, and masturbated in front of them.

In some cases, police said, the victims reported that the man, who usually wore a surgical mask or ski mask, tried to touch them or touch their breasts.

At first, he fled when they screamed; as time went on, police said he'd ignore their cries and continue to masturbate. Sometimes he maneuvered to trap or hold them in a room until he was done, according to police accounts.

During each incident, the victims said, the man remained absolutely silent.

Police said that after his arrest, Ho confessed and provided specific details for each incident. He told detectives he wanted the women to watch him masturbate.
Ho was arrested on May 19 when he broke into an apartment and accosted a woman in her bedroom... wearing only a ski mask and shoes. People, please be careful and aware about who the hell is following you home. Stay vigilant, and don't let freaks like this dude get into your building. More here:
Arrest made in burglary, indecent assault incidents
.