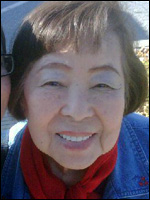 Some horrific news out of east St. Louis, where three people have been arrested in connection with the murder of an 85-year-old grandmother whose remains were found in trunk of a burning car:
Three charged with murder of 85-year-old Belleville woman
.
Yoko Cullen was reported missing after she was carjacked from the parking lot of a bingo hall last Wednesday. Daquan Barnes, 18, Latosha Cunningham, 38, and Demarcus Barnes, 27, are charged with first degree murder:
The remains of Cullen were found Friday in East St. Louis.

A vehicle and suspect descriptions were distributed to police, and an officer spotted the 2006 white Dodge Charger near Cunningham's house.

Detectives said they arrested the three based on unspecified information received during intensive interviews with the three and other witnesses.

Wild said evidence indicated that the crime had not been planned.

Wild said Cullen was carjacked from the parking lot as she was leaving the Firemen's Hall on Collinsville Road.

Her car was found burned two days later near the intersection of 11th Street and Falling Springs Road in East St. Louis. Her body was in the trunk.
According to court documents, the suspects put Cullen in the trunk and then set the car on fire. What kind of people do that to an 85-year-old woman? The kind of people who deserve to rot in jail forever. More here:
Suspect in Belleville woman's death passes out in courtroom; this isn't first time she's faced charges
.