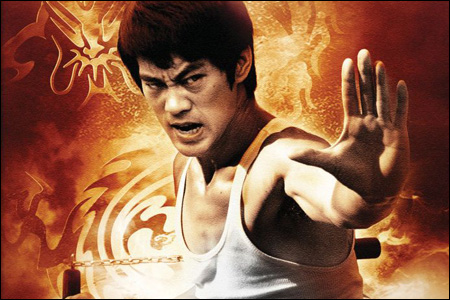 Because I know some of you fellow Bruce Lee fans will appreciate this... The good folks at DramaFever have added the 2008 CCTV miniseries
The Legend of Bruce Lee
to their roster of Asian dramas. It lays on the cheese pretty thick, and plays fairly fast and loose with the biographical details of Bruce Lee's life, but it's definitely a must-see for hardcore Bruce fans:
A biographical tale of the martial arts icon, The Legend of Bruce Lee broke two ratings records during its run in China. With an international cast including Hong Kong star Danny Chan (from blockbuster film Kung Fu Hustle) as Lee and American actress Michelle Lang as his love interest, it was filmed all over the world in China, Hong Kong, Macau, the United States, Italy and Thailand. The Legend Of Bruce Lee broke the all-time ratings record for any drama on Chinese Central Television with its final episode. Danny Chan is also set to appear in a film about Bruce Lee which will be released in 2011.

Bringing an iconic figure to life, The Legend of Bruce Lee tracks Bruce Lee through his life as he grows up in Hong Kong and emigrates to the U.S. before returning to his hometown. The son of a Cantonese opera star, he has an early start in films, appearing in a string of films in his childhood and early teens. After moving to the United States, he founds a martial arts school and takes on various film roles. He becomes an icon of martial arts cinema and a revered martial arts philosopher, as well as a famous public figure. This well-choreographed and fiercely acted series follows him through his sudden death at age 32.
Watch the first ten episodes for free at DramaFever
here
.