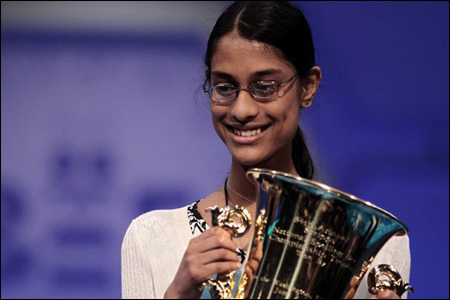 How do you spell victory? Last week, 14-year-old Sukanya Roy of South Abington Township, Pennsylvania correctly spelled
"cymotrichous"
to win the 2011 Scripps National Spelling Bee. That's right. Recognize, suckas. Another Indian American kid takes the trophy:
Youth wins spelling bee with "cymotrichous."
An eighth grader at Abington Heights Middle School, Roy traced the letters of each word on her hands, round by round, increasing her confidence, she said.

After winning, she was shaking with excitement.

"My heart started pounding, I guess. I couldn't believe it," Roy told an ESPN broadcaster immediately after receiving her trophy.

But she said she knew the word -- it means "having wavy hair" -- immediately.

"I just wanted to spell it right," Roy said. "I really didn't want to get it wrong."

Besides the trophy the superlative speller took home a $30,000 cash prize, a $2,500 U.S. savings bond, a complete reference library, a $5,000 scholarship, $2,600 in reference works and other prizes.
In the sixth grade, I represented my school at the district spelling bee. I still remember the word that tripped me up. "
Choreography
." Dammit, I said that f#@king "E"! But in my nervousness, I mumbled, and the judges gave me the boot. Seriously, it is a mistake that haunts me to this day.
This was Sukanya third time participating in the competition. This is fourth year in a row that an Indian American student has won the Scripps National Spelling Bee, and the ninth in the last 13 years. It's a Desi dynasty! It's nice to know that kids still care about, you know, words and stuff.