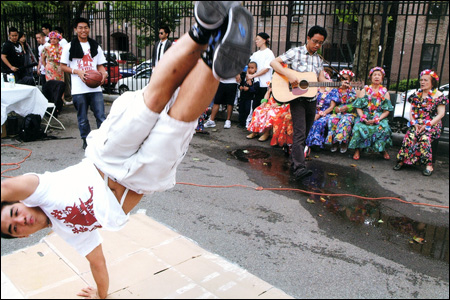 If you're in New York, you must check out
Asian Pacifically New York
, an exhibition celebrating the work of photographer Corky Lee, who has been documenting the experiences of New York's Asian and Pacific Islander American communities for over 40 years. The opening reception was last weekend, but the exhibition is on view through August 14 at the Queens Museum of Art:
ASIAN PACIFICALLY NEW YORK
Photography by Corky Lee

June 8 - August 14

Queens Museum of Art
Flushing Meadows Corona Park
Queens, NY 11368

Set inside the Queens Museum of Art's magnificent Panorama of the City of New York, this exhibition presents the artist's long-term commitment to documenting the experiences of Asian and Pacific Islander American communities of New York. These communities comprise 12% of the city's population, who are perhaps seen but not well understood. By capturing the geographically, culturally and linguistically disparate communities under a pan ethnic-framework, Lee hopes to highlight a political solidarity and shared identity forged in the American and New York contexts. These contemporary images challenge centuries-old ideologies and representations, and thus becomes instrumental in reconstructing and redefining a population that will continue to flower as engaged citizens and take their rightful place in America. With the understanding that the 10th anniversary is close at hand, some images will hone in on issues of immigration and post-9/11 experiences. Drawing on the diasporic impressions, Lee also includes an image of the detained Chinese artist, Ai Wei Wei from 1989 during pro-democracy protests.
For further information about the exhibition, and to see some photos, go to the Queens Museum website
here
. Also check out this NY1 interview with Corky Lee from last month:
Photographer Chronicles Four Decades Of City's Asian-American Community
.