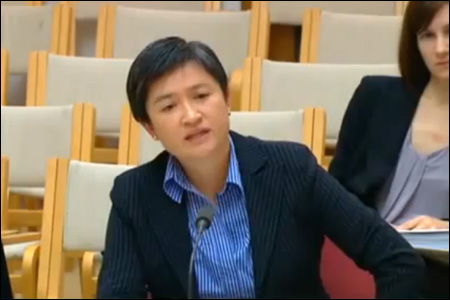 This is kind of badass. Check out this
video
of an Australian politician "meowing" at a female colleague when she asserts herself after being interrupted during a debate. But senator Penny Wong isn't taking that shit, and calls out David Bushby for his sexist sound effects:
Australian politician caught 'miaowing' at female colleague
.
Seriously. That's playground nonsense, and even Bushby's own conservative colleagues in the Liberal-National party are distancing themselves from his comment:
"Why do you miaow when a woman does that?" she said.

"It is just extraordinary. Blokes are allowed to yell but if a woman stands her ground, you want to make that kind of comment. It's schoolyard politics."

The comment was immediately seized on by Ms Wong's Labor colleagues as an example of misogyny among the members of the opposition.

Tanya Plibersek, the minister for women, accused Mr Bushby of blatant sexism and Wayne Swan, the treasurer, said that "feral" behaviour was typical of the opposition's "goons".

Even Mr Bushby's own party colleagues distanced themselves from his comment.

Joe Hockey, the shadow treasurer, said it was "unacceptable."
Bushby inititally defended his comment, ridiculously explaining it as the sound a
male or female
angry cat would make. Riiiight. Either way, it was still completely inappropriate. He must have realized that he sounded like an asshole, and later issued a full apology to Senator Wong. You rock, Australia. More here:
Asshat Politician Meows At Female Colleague During Debate
. (Thanks, Diana.)