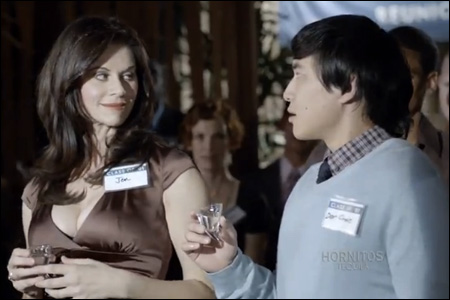 Spotted a lot of Asian faces in TV commercials lately, selling everything from smartphones to Staples, Snapple, HBO, tequila and McDonald's. Here are a few:
Hornitos Tequila
: Asian guy gets some attention at the high school reunion.
HP Veer
: Your favorite Filipino boxing champ has got a small smartphone.
Verizon Tablet Destination
: Not just one, but
two
regular ol' Asian people, having a semi-psychic conversation. Try the same commercial, same two people, same conversation, but magically in
Korean
and
Cantonese
.
Staples
: Studly Asian tech guy steps up to save the day.
Video Buffering with T-Mobile
: This one was playing throughout the NBA Playoffs and Finals. And I think it pretty much annoyed the hell out of everybody.
Rogers PS3 Offer
: I'm told this one's airing in Canada.
Snapple Lunch Break-Beats
: Aaron Takahashi and Co. crew coming at you with a rap ode to Snapple. Watch that choreography when they break it down.
HBO Go
: Our friend Randall Park, with the most annoying co-worker ever. You may have also seen him prominently featured in a Verizon Wireless commercial, though that's not his voice. He also tells me that's not his hair.
McDonald's Karaoke
: And finally, see our buddy
Parry Shen
demonstrating some of his finest "funny dance" moves, in a manner that only Chicken McNuggets could inspire.