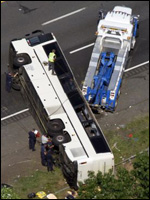 Damn, not another Chinatown bus crash. Yesterday, a commercial tour bus traveling North Carolina to New York's Chinatown went off Interstate 95 in Virginia and flipped on its roof, killing four people and injuring many more:
Bus crash in Virginia kills four and injures 54
.
Police inspectors have ruled out mechanical problems, and have attributed the crash to driver fatigue. The driver of the bus, 37-year-old Kin Yiu Cheung of Flushing, was arrested and charged with reckless driving:
Driver Arrested After Fatal Bus Crash in Virginia; Carrier Has Record of Violations
.
Virginia authorities arrested the driver of a commercial bus that rolled over in Virginia on Tuesday, killing four people, and charged him with reckless driving. The accident was the latest of several for the bus operator, which has been cited for dozens of violations including driver fatigue, a factor the police believe caused this crash.

In addition to the deaths, dozens of people were injured and traffic was blocked for hours along Interstate 95 during the morning commute after the bus, carrying 58 passengers, swerved off the road and overturned in Caroline County, about 30 miles north of Richmond, said Corinne Geller, a spokeswoman for the Virginia State Police.

The driver, whom police identified as Kin Yiu Cheung, 37, of Queens, was treated at the scene for minor injuries. He is being held at the Pamunkey Regional Jail in Hanover County on reckless driving charges, the authorities said. State police inspectors ruled out mechanical problems as a cause of the crash and blamed driver fatigue.
The bus company, Sky Express, which has been cited for a multitude of speeding and safety violations over the years, has been suspended from interstate travel:
Company from Virginia bus crash taken off the road
.
I know a lot of folks who regularly take Chinatown bus lines because they're a cheap and easy way to travel up, down and around the east coast... but when this keeps happening, you really have to wonder if it's worth it.