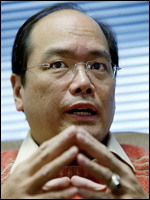 Former California state treasurer Matt Fong, a former Republican candidate for Senate who lost a challenge to Democratic Senator Barbara Boxer, died yesterday at his home in Pasadena after a four-year battle with cancer. He was 57:
Former California treasurer Matt Fong dies
.
Matt Fong was the son of March Fong Eu, who served 20 years as secretary of state and was the first Asian elected to statewide office in California. In 1998, Matt Fong unsuccessfully ran against Boxer for her Senate seat, positioning himself as a social moderate, centrist Republican:
Matt Fong, an attorney and a Lieutenant Colonel in the Air Force Reserve, was elected state treasurer in 1994 and served one term. In 1998, he unsuccessfully challenged Boxer for her Senate seat. Boxer issued a statement commending Fong for a distinguished career of public service.

"In our Senate race years ago, Matt was a strong competitor and we debated passionately, but we always had respect for one another," Boxer said.

During that campaign, Boxer's attack ads cast Fong as holding positions on abortion, gun control and the environment that were out of step with the majority of Californians. She started calling him "part of the extreme."

In contrast, Fong presented himself as a social moderate. He believed, for example, that abortion should be legal during the first trimester.

He ran at a time when the party still favored centrist Republicans.
According to his wife, Fong will be buried in Colorado Springs, where he attended the Air Force Academy. It does not sound like we agreed on a lot of things, but props to the first APIA Republican to serve as a state constitutional officer in California. More here:
Matt Fong dies at 57; former California state treasurer
.