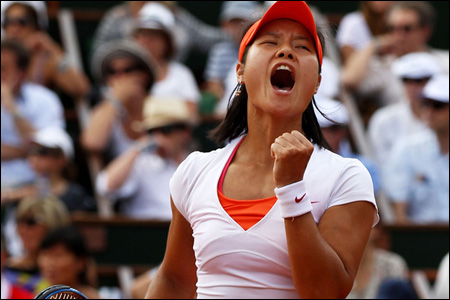 It was a historic moment in tennis. Over the weekend at the French Open, 29-year-old Li Na became the first Chinese player to win a Grand Slam singles title, beating defending champion Francesca Schiavone of Italy 6-4, 7-6 (0) at Roland Garros:
Li's Slam Win a First for China
.
She had already made history last week by becoming the first Chinese player to reach the French Open final by defeating Maria Sharapova. She was also the first Chinese woman to win a WTA singles title, the first to enter to the top ten in the rankings and the first to make it to a Grand Slam final. And now she's a French Open winner.
Li repeatedly set up points with her backhand, then closed them with her forehand, and she finished with 21 winners from the baseline, 15 more than Schiavone. Only after Li controlled the first set and the early part of the second did Schiavone begin working her way into the match.

"I tried to push more, to risk more," Schiavone said.

She broke to 4-all in the second, and held to lead 6-5. The 12th game was pivotal.

Serving at deuce, Li smacked a backhand that landed near a sideline but initially was called out by a line judge, which would have given Schiavone a set point. But Li began walking up to take a closer look at the mark left in the clay by the shot, and chair umpire Louise Engzell climbed down to examine it, too. She told Schiavone the ball touched the line. Schiavone leaned forward and pointed at the spot in question, discussing the ruling with Engzell; the restless crowd began whistling and jeering, as French Open spectators often do when a player vigorously questions a call. Engzell's call stood, and eventually she returned to her perch.

Schiavone wouldn't win another point.
It's a huge win, and a pretty significant news for China -- it's being reportd that as many as 50 million households in China watched the match. Her victory should help set off a surge of popularity for tennis back home -- no small deal for a nation of 1.3 billion, and could mean a much-needed jolt for the sport:
Li Na's win at the French Open will open tennis to China
.
Funny, considering that Li Na once had her sights set on being a badminton champ:
Li Na turns from badminton to Grand Slam champion
.