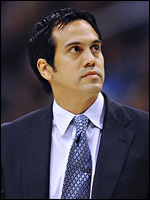 ESPN has an interesting, lengthy profile on Erik Spoelstra, head coach of the Miami Heat -- you know the team currently going toe-to-toe against the Dallas Mavericks in the NBA Finals? If you didn't know, Spoelstra is the first Filipino American head coach in the NBA. Heck, he's the first Filipino American head coach any professional sports teams in North America:
The mystery guest has arrived
.
The piece follows Spoelstra's beginnings growing up in Portland and playing basketball in college, to working his way up through the Miami Heat organization as a young man, before being named head coach in 2008. Consensus seems to be clear -- the guy works his ass off, and the work has paid off:
Ask a dozen people and you'll get a single impression: Spoelstra is among the game's hardest workers, most prepared coaches and respectful characters. The uniformity of these testimonials is so extreme, it demands a little diversity of opinion. Can Spoelstra possibly be as unimpeachable as everyone says he is?

"Let me save you a lot of time and phone calls -- yes," says one NBA general manager. "All he does is work his balls off and treat everyone the way they should be treated. He treats the film kid the same way he treats Pat Riley. He knows the game as well as anyone. But the big thing is -- he's respectful of the opportunity he's been given. He doesn't have amnesia about where he came from."

Those are all admirable qualities, but the basketball world is filled with plenty of guys who fit that description. But only a handful of them can wrangle superstar egos, develop a coherent message for seven or eight months and coach a professional brand of basketball.

That's the question surrounding Spoelstra last summer when the Heat reel in LeBron James and Chris Bosh and re-sign Dwyane Wade. After amassing that unprecedented concentration of talent, Riley decides to entrust the job of delivering not one, not two, not three, but multiple championships, to a young head coach without an NBA playing pedigree or a playoff series victory to his name.
To be honest, not being much of a basketball fan, I can't say I have much investment in the outcome of the Finals, either way. But wouldn't it be pretty darn awesome to see a Filipino American coach being presented with that NBA championship ring? Tell me that would not be awesome. Respect.