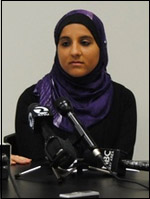 All these years after the Abercrombie & Fitch t-shirt debacle, it still actually makes kind of happy to see the dumbass fratboy clothier getting slapped with repeated legal troubles.
This time, a former Muslim employee is suing A&F, claiming that she was illegaly fired after refusing to remove her headscarf while on the job:
Muslim woman sues Abercrombie & Fitch over hijab
.
Hani Khan says she was wearing her hijab when she was hired the company's Hollister Co. store in San Mateo, California. Months later, a district manager and human resources manager asked if she could remove the hijab while working. She was suspended and then fired for refusing to do so.
"Growing up in this country where the Bill of Rights guarantees freedom of religion, I felt let down," Khan, now a college student studying political science, said at a news conference. "This case is about principles, the right to be able to express your religion freely and be able to work in this country."

Abercrombie defended its record in a comment provided to The Associated Press, saying diversity in its stores "far exceeds the diversity in the population of the United States."

"We comply with the law regarding reasonable religious accommodation, and we will continue to do so," said Rocky Robbins, the company's general counsel. "We are confident that when this matter is tried, a jury will find that we have fully complied with the law."

The lawsuit filed in U.S. District Court in San Francisco comes after the Equal Employment Opportunity Commission ruled in September that Khan was fired illegally. Khan's lawsuit was filed in conjunction with the EEOC's lawsuit.
As the target of numerous discrimination lawsuits over the years, Abercrombie and Fitch is no stranger to controversy. Hell, this isn't even the first time the company's been
sued over a hijab
.
It's no secret that A&F has a very specific look they want to represent the company's image, and it does not include a whole lot of people of color, nor any kind of headscarves. Abercrombie can burn down, for all I care.