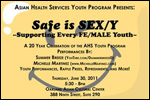 The Asian Health Services Youth Program in Oakland, which provides free, confidential, and comprehensive reproductive health care services to all youth in order to prevent teenage pregnancy and sexually transmitted infections, celebrates its 20th anniversary this year. You're invited to help them celebrate at
Safe is SEX/Y-Celebrating 20 years of the AHS Youth Program!
Unfortunately, due to huge state budget cuts, the organization is in need of some serious financial help, and they're throwing their second annual fundraiser with the goal of raising $20,000 to continue their Peer Leaders program, in-class presentations, and other activities. It's happening Thursday, June 30 at the Oakland Asian Cultural Center. Here are some more details:
Safe is SEX/Y - Supporting Every FE/MALE Youth

Thursday, June 30, 2011
5:30-8pm

Oakland Asian Cultural Center (OACC)
388 9th St. Suite 290

Safe is SEX/Y will be an evening of
- Youth performances
- Jessie Thaing (www.youtube.com/user/jessieislikewhoa)
- Jamesori (Korean traditional drumming)
- 5th Element Hip Hop Club (from Oakland High School)
- YouTube star Summer Breeze (www.YouTube.com/0summerbreeze0)
- YouTube sensation Michelle Martinez (www.MichelleMartinez.com)
- Light refreshments
- Raffle prizes (win an iPad 2)
- and more!

To purchase tickets, donate, and/or sponsor a youth to attend,
please visit: http://safeissexy.eventbrite.com/

Ticket prices:
Student (w/ID) - $10
Community Member - $25
A nice evening of community and entertainment, for a great cause in need. If you're unable to attend, you can still donate or sponsor youth to attend. Donations are tax deductible. For more information about the fundraiser, and to purchase tickets, go Evenbrite
here
or the Facebook event page
here
. And to learn more about the Asian Health Services Youth Program, go
here
.