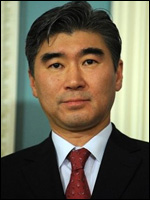 It's being reported that Sung Kim, the State Department's top Korean expert and the U.S. special envoy for the six-party talks on North Korea's nuclear weapons program, has been appointed as the United States' next ambassador to South Korea:
Sung Kim tapped as US ambassador to Seoul
.
Kim will replace the current ambassador, Kathleen Stephens, who will step down from the seat sometime in August. Kim, born in South Korea, immigrated to the U.S. in the 1970s and obtained U.S. citizenship in 1980. If confirmed, he will be the United States' first Korean American ambassador to Korea:
A prosecutor-turned-diplomat, Kim has been working as a special envoy to the six-party talks aimed at dismantling North Korea's nuclear program since July 2008. One month prior to that, he, then the head of the Korean office at the State Department, flew to Yongbyon in North Korea to see the demolition of a cooling tower at its main nuclear site. He has visited the North more than 10 times in official capacities.

The career diplomat served as chief of the political-military affairs at the U.S. Embassy in Seoul in 2003, and also worked as a political officer in Tokyo. Prior to that, he served in Kuala Lumpur in Malaysia and Hong Kong.

Diplomatic circles in Korea and Washington seem to welcome him as a new ambassador to Korea.

Born in 1960, Kim and his family emigrated to the United States in the 1970s, after his father left public service. Kim went on to the University of Pennsylvania and Loyola Law School and served as a prosecutor before becoming a diplomat.

In Korea, news of his appointment raised hopes for future communications between Seoul and Washington over the North's nuclear issue.
The news apparently isn't quite official yet. According to the article, an official announcement usually comes after the nominee is approved by the government in the recipient country. It's taken a long time to get an actual person of Korean descent as the ambassador to Korea. But he sounds fit for the job. More here:
U.S. names Korean-American official as ambassador to Seoul
.