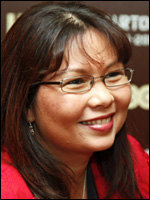 This week, Tammy Duckworth resigned from her position as the Assistant Secretary of Veterans Affairs, amid speculation from political insiders that she'll return to her home in the Chicago suburbs to run for Congress next fall:
Tammy Duckworth resigns from VA, may run for Congress
.
Duckworth, a war veteran who lost both her legs when her helicopter was shot down in Iraq, previously ran for the House in the 6th Congressional District, losing to Rep. Peter Roskam in a close race. This time, she'd be running with a beefed-up resume and the district drawn in her favor:
In 2006, Duckworth ran against Republican Peter Roskam. Her campaign earned national attention, in large part because of her story: an officer in the Illinois National Guard, she became a helicopter pilot, and lost both legs and the partial use of an arm when her Blackhawk was shot down in Iraq in 2004.

Roskam narrowly beat her in that race, by a 51-49 margin. If Duckworth were to run again this time around, it would be in a district that was drawn without an incumbent representative in this year's redistricting, a process that Illinois Democrats controlled and steered toward their heavy favor.

The district appears to favor Democrats: Obama won it with around 61 percent of the vote, and it looks to be around D+7 on the Cook partisan voter index, indicating a significant blue lean.
No date for Duckworth's departure from the VA has been set, but at this point, it sounds all but certain that she's going to make that run for Congress. More here:
Tammy Duckworth Resigns At VA, Illinois Congressional Run Could Be In The Cards
Meanwhile, Raja Krishnamoorthi, a former advisor to Barack Obama and a narrowly failed candidate for state comptroller, has already announced his intention to run for the Democratic nomination in the 8th District:
Raja Krishnamoorthi To Run In Illinois' 8th Congressional District
.