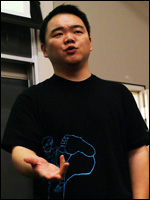 All right, friends. It's time to meet the
Angry Reader of the Week
, spotlighting you, the very special readers of this website. Over the years, I've been able to connect with a lot of cool folks, and this is a way of showing some appreciation and attention to the people who help make this blog what it is. This week's Angry Reader is the real Keith Chow.
Who are you?
Keith Chow, a.k.a.
@the_real_chow
on Twitter. I'm also the
second member
of my family to be honored with the title of "Angry Reader of the Week."
What are you?
I'm Batman
. Also, a husband, a father (a
Rice Daddy
to be exact), a former teacher, and an action figure enthusiast. Oh, and one of the editors of a little book called
Secret Identities
.
Where are you?
In my upstairs home office just outside Baltimore, Maryland. Or am I?
Where are you from?
With apologies to John Cougar Mellencamp, I was born in a small town. Namely, Luray, Virginia, deep inside the Shenandoah Valley. I also did a good deal of growing up in the Hampton Roads area. I went to Old Dominion University in Norfolk and started the school's first
Asian American student organization
. We had, like, six people show up to that first meeting. Thirteen years later, I'm happy to report that the group is still thriving. I also taught English and creative writing for a few years at Indian River High School in Chesapeake, Virginia -- the alma mater of Alonzo Mourning and SNL's Jay Pharoah, though I didn't actually teach either of them. But while I represent Virginia to the fullest, deep down, I wish I was from Chicago (Go Bulls! Go Bears! Go Batman!).
What do you do?
Things I used to do: play the drums, write about toys, and watch Smallville. Things I currently do: visit school districts across the country and analyze their college readiness infrastructures. I also occasionally write for the website
PopCultureShock
and even less occasionally update my own
blog
. And if you ever get annoying messages to
"like" Secret Identities
on Facebook, that's probably me, too. Some things I will be doing: studying education policy at Johns Hopkins University in the fall and helping to get
Secret Identities Volume 2
ready for publication eventually.
What are you all about?
Truth, justice, and the Asian American way. But mostly singing Bobby Brown karaoke.
What makes you angry?
Just the usual: Fox News.
Fake IMAX theaters
. Beltway traffic. Michael Bay movies. Gamma radiation.