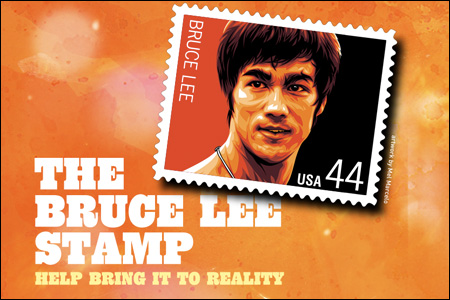 Yo, Bruce Lee fans. A campaign is underway to get the legendary martial arts icon on a United States
postage stamp
in 2012 -- the Year of the Dragon! Cool, right? To make this happen, they're trying to drum up as much public support as possible to get Bruce Lee on the stamp selection committee's radar. Read on:
Bruce Lee's contributions to history as a prominent Chinese American person are both unique and unforgettable, a lasting and positive legacy worthy of national commemoration. Even before he became an American icon in the 1970s, his ideals were the same principles on which our great country is based. Determination. Innovation. Equality. We believe a Bruce Lee United States postage stamp would be an excellent way to support hese ideals and to honor his lasting legacy and contributions.

The process, however, is a difficult one that cannot be accomplished without your help. In order to get Bruce Lee's candidacy on the Selection Committee's radar, we need as much public support as possible. Also, our goal is to have Bruce Lee selected to be honored with a United States postage stamp for 2012 (the Year of the Dragon), so we need to assemble as much support as we can as quickly as we can.
I would love to see Bruce Lee on a stamp. And I would collect the hell out of them. For more information on how you can help make it happen, including a downloadable support letter you can fill and out send, go to the official Bruce Lee website
here
.