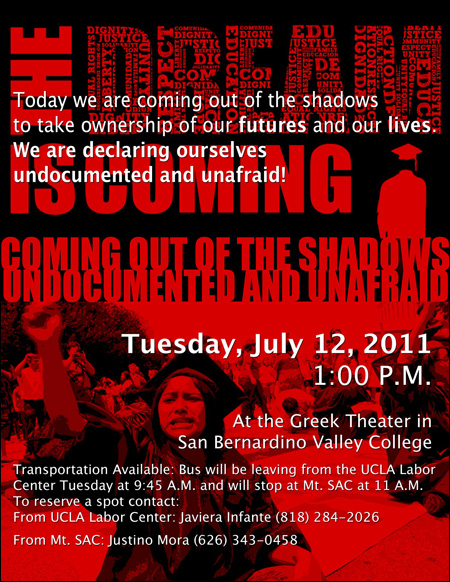 Tomorrow, eight undocumented youth publicly will reveal their status at a "coming out" rally in San Bernadino:
Coming Out of the Shadows: Undocumented & Unafraid in the Inland Empire
.
These brave individuals will be coming from all over the state of California in an effort to bring attention to the danger of continued cooperation between police and immigration authorities to arrest undocumented students. It's happening Tuesday, July 12 on the San Bernardino Valley College campus. Here are some more details:
Undocumented Youth 'Come Out' as Unafraid Risking Arrest

Who:
8 Undocumented Youth -- Martha Vasquez, Isaac Barrera, Alma De Jesus, Ju Hong, David Lemus, Jesus Barrios, Jorge Herrera and Jonathan Perez

What:
Youth 'come out' of the shadows and publicly declare being Undocumented and Unafraid.

When:
Tuesday, July 12th at 1:15pm

Where:
San Bernardino Valley College @ Greek Theater
701 South Mount Vernon Ave.
San Bernardino, CA 92410

The purpose of Tuesday's event is to inspire undocumented youth from the state of California to take action; "As undocumented youth, we need to stand up and fight back. Change will not come unless we allow our voices to be heard. We are risking our livelihood because we want to empower other undocumented youth and bring our communities out of the shadows." Says Ju Hong, undocumented student from Oakland. According to the Migrant Policy Institute over 553,000 undocumented youth reside in the state of California.
One of the students coming out at the rally is Ju Hong, a Korean American undocumented student who also happens to be a student senator at UC Berkeley -- and puts an Asian face on this important issue. For more information about Tuesday's rally, go to the Facebook event page
here
.