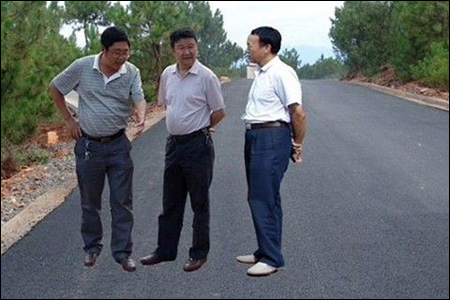 This is pretty funny... The latest meme to catch fire among China's bloggers was born out of a really crappy Photoshop job. Last week, a government website post a photo of officials inspecting a road in Huili county. The only problem: the photo is fake as hell, and sharp-eyed netizens weren't buying it. Much hilarity and government apologizing ensued:
China Admits Officials Cannot Levitate
.
According to a post on the blog EastSouthWestNorth, after the image of the apparently hovering officials was published online, a Huili resident drew attention to it in a post on a Web forum headlined, "Too fake." The unnamed Chinese "netizen" explained:

"I had nothing to do today so I visited the Web site for our county government. The headline story was about the upgrade for the road to the countryside. I looked at the photo and I almost coughed out half a liter of blood! Even a rank amateur like myself can tell that this was a Photoshop job, and they had the nerve to put this on the home page!"

That reader's post drove so much traffic to the county's Web site that the site was knocked offline for a while. The next day, the site was restored, but the poorly doctored photograph was gone.

Huili officials then took to a Chinese microblogging site, Weibo, where they posted an apology. They also explained that the altered image was the work of a government photographer who thought that none of his pictures did justice to the scene, and so took it upon himself to improve on nature by combining parts of three photographs to create the new image that captured the attention of the nation.
Bet these guys didn't realize that when they went to work that morning, they'd become famous internet dudes. The photo was removed from the county website, but not before it was copied and widely parodied. Check out
this page
with a bunch of hilariously doctored photos taking it to the next level. More here:
Chinese government photoshop disaster goes viral
.