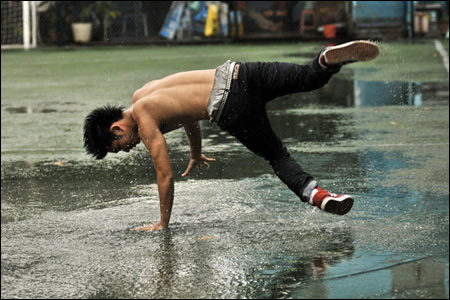 Check it. The Vietnamese hip hop film
Saigon Electric
, directed by Stephane Gauger, is gearing up for its U.S. theatrical release this fall. Already a big hit on the festival circuit, they're aiming for a proper release and want to do it right. So they're putting the call out for your help, and have set up, of course, a
IndieGoGo campaign
to make it happen. First, take a look at the
trailer
:
And here's the story synopsis:
MAI, a traditional ribbon dancer from the countryside, arrives to the big city of Saigon in hopes of being admitted to the national dance academy, where she meets the rebellious KIM, A hip hop from a local crew. Mai enters their lives as the crew trains at the community center with their own dreams: to compete internationally in South Korea. To do so, they have to beat the national champs from Hanoi. Soon enough, Kim moves in with Mai and the two teens become kindred spirits until Kim loses in an underground battle and quits the South crew. As Mai becomes closer to Doboy, the leader of the South crew, Kim begins a fairy tale romance with Hai, a rich boy from the other side of the tracks threatens her friendship with Mai. The kids trouble mount when a hotel developer informs them that their community center will be torn down to make room for a large hotel. Now Mai and Doboy have to convince city officials to attend the Samsung competition, but first they've got to beat the North crew. Will Kim run off to Europe with her rich new boyfriend, or will she return to her hip hop family. Will Mai find the courage to audition again for the national dance academy. Will the underdogs Saigon crew find a way to keep their community center and find victory at the big competition? SAIGON ELECTRIC is a movie that looks at the youth in modern day Vietnam, and their power to dream.
And here's some information about the IndieGoGo campaign:
It's plain and simple. To get SAIGON ELECTRIC to as many theaters as possible this Fall, we need to manufacture new 35mm prints and overlay new English subtitles to book them in as many movie theatres as possible. Routinely, it costs a little over $1,500 to make a new 35mm print. That's an expensive endeavor, for sure! We already have a couple of prints already, but we need your help to make more and ensure that we can fulfill our theatrical bookings and get the movie out all on the same day, October 7th!

SAIGON ELECTRIC is a positive, feel good film that we are very proud of. We want to give back to our donors, so we're giving away cool stuff even at the initial level of $20. Of course, with the more you contribute, the more perks you get!
I saw
Saigon Electric's
premiere earlier this year at the San Francisco International Asian American Film Festival. Fun, fresh and irresistibly entertaining, the movie's a classic underdog crowd-pleaser that gives you a great glimpse of modern day Vietnamese youth culture.
They're trying to raise $10,000, and get the movie released on October 7. This is the kind of project that begs for community support. I mean, come one, don't you want to see dancing Vietnamese kids on the big screen? Yes, you do. For more information about the movie, go to the
Saigon Electric
website
here
. And to make a pledge to the project, go to the IndieGoGo campaign page
here
.