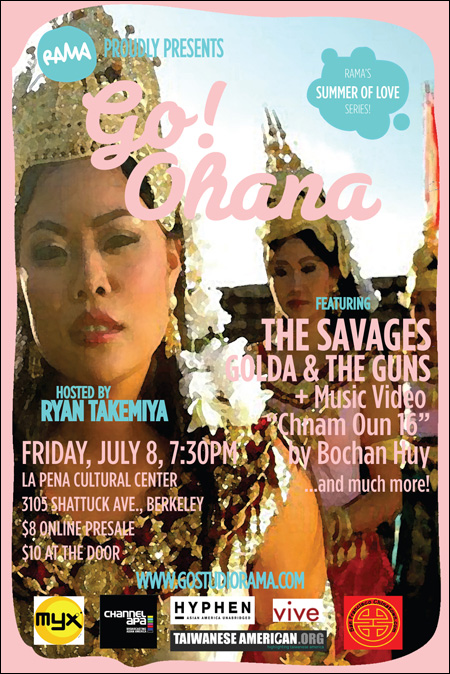 Hey, Bay Area. You're invited to the latest edition of Studio Rama's pan-Asian indie artist variety showcase,
Go!Ohana
. This month's show gets hot with the likes of The Savages, Golda & The Guns and more. It's happening Friday, July 8 at the La Pena Cultural Center in Berkeley. Here are some more details:
Go!Ohana June

Friday, July 8
7:30pm

La Pena Cultural Center
3105 Shattuck Ave., Berkeley
$8 online presale
$10 at the door

Along with the summer heat, RAMA proudly presents the hottest artists of the Bay Area! On Friday, July 8th, The Savages, Golda & The Guns, and Bochan Huy (and more) will create the perfect harmony for your summer soundtrack.

Go!Ohana is the Bay Area's home for the growing Pan-Asian Arts Movement, highlighting the gifts of Pan-Asian performers by featuring different artists from across the Bay and beyond. Join the Ohana this month at the historic La Pena Cultural Center to enjoy the one and only Go!Ohana variety show.

Featuring:
The Savages
Golda & The Guns
Music Video "Chnam Oun 16" by Bochan Huy
Mark Zhang
Joe Nguyen
Get your July off to a fun start with an evening of community and performance. For further information about what Go!Ohana is all about, go to the Studio Rama website
here
, and for more info on Friday's show, check out the Facebook event page
here
.