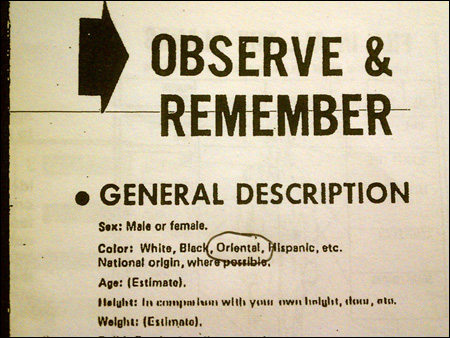 Last night, several hundred people gathered at a community meeting in Chicago's Lakeview neighborhood to meet with police and the alderman to express concerns about an increased level of violence in the area over the last few weeks:
Hundreds Attend Boystown CAPS Meeting
.
The meeting was spurred by the highly-publicized, caught-on-tape beating and attack of a man earlier this week. Unfortunately, I'm told that Wednesday's meeting largely devolved into a racist discussion about keepin out LGBTQ youth of color as an apparent solution to curbing violence in the area.
But the reason why this was brought to my attention in the first place... At the meeting, police passed out flyers (above) with "tips" on how to accurately describe perpetrators to authorities. Notice something funny? Dude, when was this thing printed up? 1968? And this is official, straight from Chicago police.
Everybody wants a safe neighborhood, but no one seems to be able to come to a consensus on how to achieve it. It's disheartening -- though not surprising -- to hear that a meeting called to facilitate dialogue on community safety quickly became a discussion on race/class exclusion. It's a tense situation. And bonehead police flyers like this don't help. (Thanks, Ryan.)