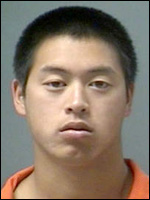 This is crazy tragic story out of Northwest Indiana about a 19-year-old facing manslaughter charges in the death of another teen who died during a fight over Fourth of July weekend:
Young Man's Death Rattles Indiana Beach Community
.
James Malecek is charged with aggravated battery, involuntary manslaughter and battery for a fight in which he apparently "sucker punched" 17-year-old Kevin Kennelly in the head, sending him to the hospital where he died of massive brain trauma.
The real kicker, for me, is
why
Malecek did it. According to witnesses, some people were harassing Malacek's 16-year-old sister, saying she should not be wearing a patriotic red, white and blue bandanna.
Malacek and his sister are Korean American adoptees.
Someone apparently thought she wasn't "American" enough to be wearing such a thing:
But the celebration turned tragic around 11:30 p.m., when James Kieffer Malecek, 19, the son of a Chicago family with a home in Long Beach, allegedly punched Kevin Kennelly Jr., 17, whose South Side family also has a home nearby. Though the police have not given a detailed version of events, Long Beach homeowners with knowledge of the incident said a fight started when youths — during a beach party at which there were hundreds of teenagers and lots of drinking — were harassing Mr. Malecek's 16-year-old sister about her red, white and blue bandanna. Locals say Mr. Malecek was reacting to another youth's comment that Mr. Malecek's sister should not be wearing the patriotic bandanna; the siblings are Korean-American.

Kevin Kennelly reportedly was trying to separate Mr. Malecek and another youth when he was punched. He lost consciousness and was taken to a hospital, where he was put on life support and died on July 6 from blunt-force trauma to the head. Mr. Malecek turned himself in to LaPorte, Ind., police the next day. He was charged with involuntary manslaughter, aggravated battery and battery, released on $25,000 bail and later pleaded not guilty.
Malecek was released after posting a $25,000 cash bond. The racial antagonism is just one side of the story, and there are conflicting accounts of what happened. Throw in alcohol into the mix, and who knows what went down?
I can sympathize with anyone who's had to put up with in-your-face racial prejudice. But in the end, a guy is dead, and that's a tragedy. More here:
Man charged in beach beating death turns himself in, neighbors 'shocked.'