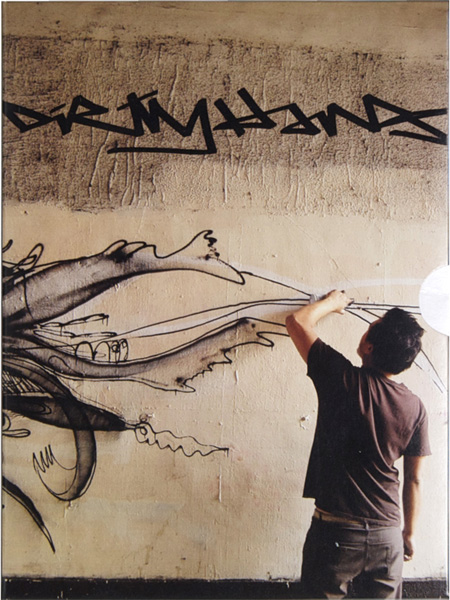 It took a while getting here, but
Dirty Hands: The Art & Crimes of David Choe
is finally out on DVD this week from
Upper Playground
You can also stream it online for free
here
.
Nearly a decade in the making, the documentary chronicles the life and career of renegade Los Angeles artist David Choe, as seen through the lens his close friend and director Harry Kim. Take a look at the
unofficial trailer
:
This film is a trip. I saw it a couple of years ago during its film festival run and was completely unprepared for the madness it unleashed on my cinema-senses. Here's a description that sort of tells you what you're getting into:
David Choe's kaleidoscopic work can be playful, confrontational and sexually frank. His personal life is no less complicated, as revealed by close friend Harry Kim, who documented Choe's life and crimes from 2000 to 2007. From the manic highs of commercial success and dinosaur hunting in the Congo to the self-destructive lows of Japanese jail sentences and bouts of self-doubt and depression, what begins as a gleeful portrait of a bad-boy artist slowly becomes a poignant celebration of one man's journey, both artistically and spiritually, toward his own uncertain salvation.
You think you seen the fascinating tortured artist thing before. But not like this.
Dirty Hands
is an explicit peek inside the head of a guy who is all at once an artistic genius, uniquely foul, kind of a jerk, and maybe not quite right in the head. And totally fascinating. He might not come off as likeable, but I could not stop watching this film.
Watch it now
here
. To get the double-disc DVD set, which includes over three hours of bonus footage, order it from Upper Playground
here
. If you're headed to Comic-Con this week, the DVD will be available at booth #4633. Director Harry Kim will also be signing at the
Giant Robot
booth on Friday. For more information about
Dirty Hands
, go to the official website
here
.