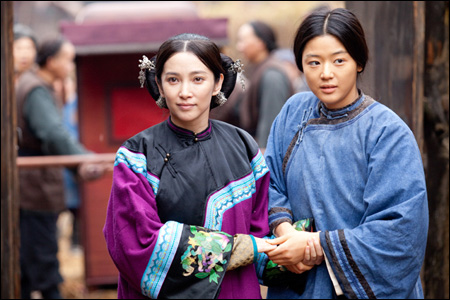 Snow Flower and the Secret Fan
, the latest film from director Wayne Wang, and based on the novel by Lisa See, opens in theaters nationwide on Friday from Fox Searchlight. Li Bingbing and Gianna Jun star as "laotong" in two parallel stories of everlasting sisterhood and friendship set in 19th-century China and modern-day Shanghai.
I've been pondering on what to say about this movie for a while -- I saw it like three months ago, and honestly, I'm not crazy about it. But I deeply respect Wayne Wang as a filmmaker, so I'm putting the info out there in the hopes that it finds the right audience... because it's definitely not me. Here's the
trailer
:
Here's the synopsis:
n 19th-century China, seven year old girls Snow Flower and Lily are matched as laotong - or "old sames" - bound together for eternity. Isolated by their families, they furtively communicate by taking turns writing in a secret language, nu shu, between the folds of a white silk fan. In a parallel story in present day Shanghai, the laotong's descendants, Nina and Sophia, struggle to maintain the intimacy of their own childhood friendship in the face of demanding careers, complicated love lives, and a relentlessly evolving Shanghai. Drawing on the lessons of the past, the two modern women must understand the story of their ancestral connection, hidden from them in the folds of the antique white silk fan, or risk losing one another forever. What unfolds are two stories, generations apart, but everlasting in their universal notion of love, hope and friendship.
Like I said, I'm not a huge fan of this movie. I didn't find the relationship between these two women very compelling -- particularly in the "old China" story. And seriously, why must so many "Asian-themed" movies produced by Hollywood studios have to come packaged as old-ass period costume dramas? Same old, same old.
I was a little more interested in the scenes set in the modern, rapidly-changing Shanghai -- a device, I'm told, that was invented for the screen adaptation, Wolverine and all (you'll see). But neither story seemed compelling enough to exist on their own. Lots of pretty scenery, and flashback upon flashback upon flashback, but I found myself hard-pressed to really find something to care about.
But whatever. I'm certain that I'm not in the target demographic for this story -- neither the book nor the film. Nothing against the weepy Asian mother/sister drama genre... but no thanks. However, if this is your thing,
Snow Flower and the Secret Fan
opens in select theaters on July 15. For more information, including the list of theaters, go to the Fox Searchlight website
here
.