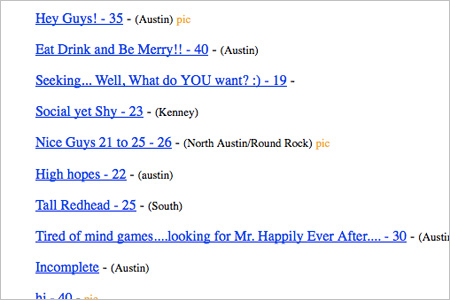 Interesting post over at Jezebel that's been making the rounds... Elaine Dove, a self-described tall, half-Asian, tattooed Buddhist performing artist and healer hailing from Austin, Texas recently conducted an online dating experiment messing with the various parts of her "bewildering racial and cultural stew":
Race And Craigslist Dating: An Experiment
.
I imagine a lot of people feel this way after making a stab at online dating. Am I the degreed professional looking for the similarly educated white collar guy? Am I the performing artist looking for someone to go dancing with? Am I the healer looking for someone who isn't going to be my client? The truth is, all of these count.

So, I decided to try an experiment with Craigslist. I chose Craigslist because it's text-based rather than photo-based. I suspected photos were working against me in some way I couldn't perceive. I created three separate ads for Craigslist, all of which were posted within a day of each other. All three ads described me as a degreed professional looking for activity partners, friends, and maybe a relationship if the other two things worked with a bit about my interests and preferences (within five years of my own age, no kids, no habitual drinkers or smokers, creative, active).

The first described me accurately: gothic, Asian-American, alternative, artistic, inquisitive, intelligent, adventurous.



The second made no mention of my race at all.



The third stated that I was "non-white and non-Christian."



You can already imagine the results such an experiment might yield, especially in regard to the ad in which self-identified as Asian American. Is there something magical about the word "Asian" in the world of online dating? Sadly, it's a beacon that attracts weirdos and freaks. Her findings:


The ad that said I was Asian generated approximately 80 responses in about 6 hours, after which Craiglist struck the ad as being a fake. Many if not most of the responses started with something like, "I love Asian" (I'm not kidding) or "Asian women are so sexy." The content and feel of the responses was overtly sexual and made specific reference to my race as part of the appeal. Keep in mind that none of these ads contained a photo, so for all these guys knew, I could be a dwarf with missing teeth. But, apparently, being Asian is its own draw.



The ad that did not specify my race drew a small number of responses, all from educated white men. Many of them didn't write again after I sent them a photo. Did it have to do with an initial assumption that I was white which was then disappointed? I don't know.



The third ad, the one full of "nons" - non-white, non-Christian, alternative - generated the best responses: creative, thoughtful guys of a variety of racial and economic backgrounds, all intelligent and interesting.


I think this all went the way any of us could have predicted. I've heard about and read comparable experiments that yielded the same results. Nevertheless, it's certainly a conversation starter. Like the author, I have to wonder what would have happened if she had identified herself as another race. Without much information to go on, the Asian "exoticism" factor always seems to kick in in online dating situations.
Then again, I have to question why anyone would want to use Craigslist to find a date... or anything else involving sustained human interaction beyond selling concert tickets or your used TV stand.