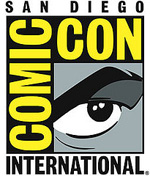 If you're one of the thousands of fanboys and fangals who will be converging next week at the San Diego Convention Center for Comic-Con, center of the pop culture geek universe, carve out some time in your schedule to check out this panel happening Sunday morning...
Diversity and Fandom 102: How You Can Make a Difference
, co-hosted by Racebending and Racialicious. I'll be speaking on the panel along with some pretty distinguished panelists. It's happening Sunday, July 24, 10:00am in Room 24ABC. Here are some more details:
Diversity and Fandom 102: How You Can Make a Difference

Sunday, July 24
10:00am - 11:00am
Room 24ABC

In the wake of campaigns like Racebending.com's protests and the rise of safe spaces like Racialicious.com, fans, consumers and creators from underrepresented groups have more outlets for speaking up. This panel explores how those voices can be added to conversations with geeky business interests and fan communities.

Actor Dante Basco (Avatar: The Last Airbender), showrunner/writer Javier Grillo-Marxuach (The Middleman), author Malinda Lo (Huntress), Arturo Garcia (Racialicious.com), Phil Yu (AngryAsianMan.com) and USC Professor Henry Jenkins (CivicPaths Project) promise a lively discussion, moderated by Racebending.com!
We're currently collecting questions for the discussion, so if you'd like to submit one, leave it in the comments at
Racebending.com
. For more information about the panel, check out Racialicious' post
here
and the Facebook event page
here
. If you stop by the panel, please say hello. And I'll see you at Geek Thanksgiving!