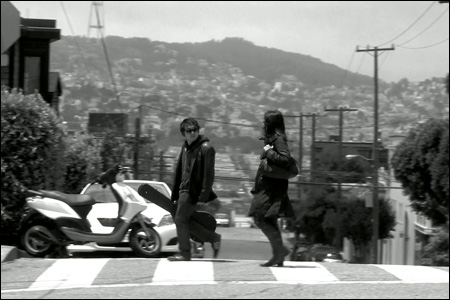 Hey, San Francisco. The indie feature
Surrogate Valentine
, directed by David Boyle and starring local favorite musician Goh Nakamura, returns home this weekend for screenings at the
Roxie Theater
, July 16 and 17.
Goh Nakamura is my homeboy, and I love this movie. If you missed this year's Closing Night screening at the San Francisco International Asian American Film Festival, this is your chance to catch it on the big screen again. And seriously, this movie's heart belongs to San Francisco. Here's the
trailer
:
And here's the movie's synopsis:
In Dave Boyle's sweet romantic comedy, SURROGATE VALENTINE, San Francisco musician and rising star Goh Nakamura's (playing himself) life of solitude is disrupted when he is hired to teach TV actor Danny Turner (Chadd Stoops) how to play guitar for an upcoming film. Hellbent on accurately portraying Goh's mellow vibe for his role, Danny meticulously studies his every move. Together, the two embark on a hilarious West Coast adventure involving live gigs, groupies, shotgun-wielding record exes and an unexpected friendship. Along the way, Goh discovers that Danny may be the missing puzzle piece in his life-long chase for Rachel (Lynn Chen), the one that got away.
Goh Nakamura will be playing live music before both evening shows on Sunday, July 17. There will also be a post-screening Q&A with director Dave Boyle after all evening shows. For more information, and to purchase tickets, go to the Roxie Theater website
here
. And for further information about the movie, go to the
Surrogate Valentine
website
here
.