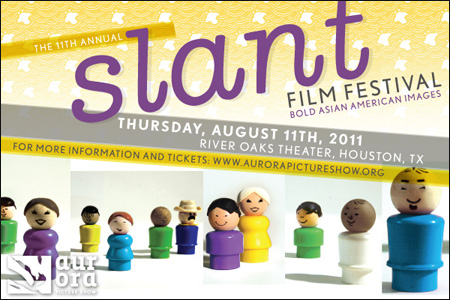 Sorry for the short notice, but this is for all you film fans in Houston...
Slant: Bold Asian American Images
is an annual festival of short films, showcasing works by emerging and mid-career Asian American artists. Curated by Melissa Hung, founding editor of
Hyphen
, Slant 11 will screen one night only on Thursday, August 11 at the River Oaks Theatre. Here are some more details:
Slant 11: Bold Asian American Images

Thursday, August 11
7:30pm - 9:00pm

River Oaks Theatre
2009 West Gray
Houston, TX

This annual Aurora Picture Show program showcases an eclectic mix of the best new short films made by Asian American artists. From a mockumentary that follows a self-important spoken word artist to a sci-fi tale featuring a malfunctioning android, the five short films selected for Slant tell diverse stories. Curated by Melissa Hung, founding editor of Hyphen, Slant will screen for one night only. Don't miss it!

Films
Jaime Lo, small and shy, by Lillian Chan
PIA, by Tanuj Chopra
Digital Antiquities, by J.P. Chan
Asian American Jesus, by Yasmine Gomez
Fatakra, by Soham Mehta (Soham will be in attendance)

Tickets are $10 for Non-Members, and free for Aurora Members.
Want to go to the show? Want discounted tickets?
Use this special discount admission link
to get $3 off the regular $10 admission price. This is for
advance
ticket purchases only through August 10, and will not be available on the day of the screening or at the door. So get 'em now.
For more information about the screening, including previews and descriptions of all the films, go to the Slant website
here
and the Facebook event
here