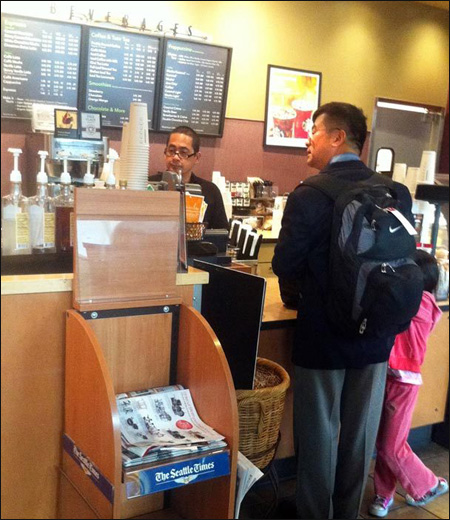 Hey look! It's Gary Locke, the newly appointed U.S. ambassador to China, carrying his own backpack and ordering his own coffee... just like a regular dude. No big deal, right? It's apparently a big deal in China:
Photo of bag-carrying ambassador charms China
.
This photo, candidly snapped last week at Seattle Tacoma International Airport and uploaded to a Chinese social media network, has apparently created quite a buzz amongst those impressed by the simple average joe-ness of an official, sans entourage, getting his own coffee:
ZhaoHui Tang, a businessman from Bellevue, Wash., snapped the photo Friday on his iPhone when he spotted Gary Locke at the counter of an airport Starbucks. Locke is the first Chinese-American ambassador to China and a former governor of Washington state.

Tang uploaded the photo to the Chinese social media network Sina Weibo because he thought it was cool to run into the new ambassador at Seattle-Tacoma International Airport.

He didn't expect it to generate 40,000 reposts and thousands of comments.

"This is something unbelievable in China," said Tang, a Chinese-American citizen. "Even for low-ranking officials, we don't do things for ourselves. Someone goes to buy the coffee for them. Someone carries their bags for them."
I love the fact that Ambassador Locke even tried to use a coupon for the coffee. Hey, you cut costs where you can. It sounds like the photo of the down-to-earth ambassador went over well with netizens -- not a bad way to start the new job. Now the real work begins. More here:
The "ABCs" of Being Ambassador to China
.