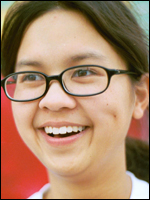 Some more television casting news... Word on the street is, actress/comedian Charlyne Yi, who is best known for her role as a stoner girlfriend in
Knocked Up
, has been added to the cast of Fox's
House
:
'House' casts 'Knocked Up' co-star for season 8
.
It has been confirmed that Charlyne has been hired on for the medical drama's eighth season as a series regular. At this point, not too many more details on her role, except that she'll be joining the Princeton-Plainsboro diagnostics team as a young doctor:
Dr. House is paging a revitalized female cast for fall.

House producers just hired actress-comedian Charlyne Yi to join the show as a series regular. Yi will help repopulate the female cast of the Fox medical drama that's seen departing names over the years, such as Lisa Edelstein and Amber Tamblyn, especially now that Olivia Wilde is part time.

Yi joins the team playing a young doctor on the show, coming on the heels of House hiring another new female full-timer, Breaking In co-star Odette Annable, who will play a prison doctor. Yi had a scene-stealing role in Knocked Up and recently was in NBC's Love Bites. She's repped by UTA, Christie Smith at Mosaic and Lev Ginsberg.
While everybody remembers her from
Knocked Up
, I absolutely adored Charlyne in the indie sorta-documentary
Paper Heart
, which she wrote and co-starred in. It'll be interesting to see her in a more dramatic role. More here:
'House' adds two new cast members
.
It's also about friggin' time we see a lot more Asian American doctors on medical shows. Seriously -- ever been to a hospital? We run things.