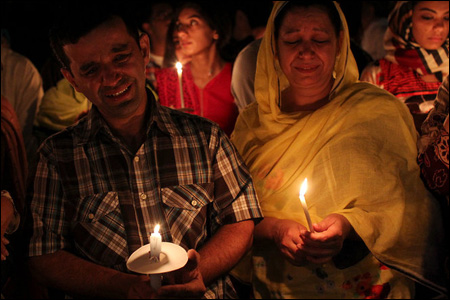 Terrible news out of northern New Jersey, where a Pakistani American woman was shot to death while she was walking with her husband and 3-year-old son on Tuesday night:
Parents Gunned Down Walking With Child
.
27-year-old Nazish Noorani was shot to death while walking down a quiet street in Boonton. Her husband, Kashif Pervaiz, was shot four times and is in stable condition at a local hospital. The child, thankfully, was not injured.
According to the Morris County prosecutor's office, a preliminary investigation suggests the shooting was not random. However, police say there was no indication the shooting was a bias crime:
Investigators from Boonton and surrounding municipalities combed the neighborhood of single-family homes throughout the day today. No arrests had been made by tonight but new details were emerging about the killing and the couple.

Katie Bakstad, a neighbor who arrived at the scene minutes after the shots were fired, said Noorani was struck directly in the heart and likely died instantly. Bakstad, who is also a first-aid responder, said Noorani was lying on her back, about five feet from the sidewalk.

Her husband was on the other side of the street. He was talking, having suffered gunshot wounds to his ankle and shoulder, Bakstad said. He remained at Morristown Medical Center tonight, authorities said.

Morris County Prosecutor Robert Bianchi quickly spiked wild rumors the attack had been a bias crime, instead calling it a "target specific" killing, emphasizing there was no danger to the general public.
Without any suspects or anythings else to go on, media attention turned to the couple, their background, and their relationship, but all that's just a big jumble of information. But if the victim was indeed "targeted," and this is not being investigated as a hate crime... then what the hell happened?
Whatever the case, the murder has shocked this community:
Boonton community stunned after fatal shooting shatters quiet neighborhood
. More here:
Candlelight vigil for Boonton shooting victim Nazish Noorani
.