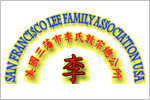 After seven months on the job, interim San Francisco Mayor Ed Lee announced that he was officially running for a full term to the cheers of his supporters. Sure he's got some political clout and he's a well-respected public servant, but he's also got a special weapon on his side: the power of
Lee
.
The Lee Family Association, that is. Ed Lee, being Ed Lee and all, has the backing of the Lee Family Association, the largest and one of the oldest family associations in Chinatown. And in this city, the power of Lee apparently goes a long way:
What's in a name? Could be lots of votes for Ed Lee
.
The Lee Family Association held a banquet for 700 guests shortly after Lee was sworn in as the first, if interim, Chinese mayor of San Francisco. Now that he's running to ditch "interim" from his title, the association's really got his back. As nonprofits, the groups don't make official political endorsements, but it's clear who they're behind.

Steven Lee, past president of the national Lee Family Association (with 17 branches in cities including New York, Los Angeles and Boston), was none too pleased when State Sen. Leland Yee, also a candidate for mayor, called on Ed Lee to resign for breaking his promise not to run at a mayoral debate earlier this week.

The family associations often stay on the sidelines of such dust-ups, but not this time. Steven Lee spoke out in a front page story in the World Journal, a daily Chinese language newspaper, condemning Yee for the remarks.

"He's doing a good job, and there's no reason for somebody doing a good job to resign," Steven Lee told us. "We are 100 percent behind him."
Fellow candidate Leland Yee has the support of the prominent, but much smaller Yee Family Association. Alas, the two other Chinese American candidates, Supervisor David Chiu and Assessor Phil Ting, can't count on the support of a Chiu or Ting association. There are no such organizations.