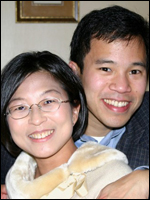 The latest development in the strange case Robert Wone, the D.C. attorney who was found dead in a friend's townhouse in August 2006. The three defendants who were charged with conspiring to cover up his death were found not guilty last year. Wone's widow, however, was not done with the case.
No one has ever been charged in the actual stabbing of Robert Wone. But in an attempt to hold someone accountable for his death, Kathy Wone filed a $20 million wrongful death lawsuit against the three men, Joseph Price, Victor J. Zaborsky and Dylan Ward. They settled:
Wone family settles $20 million lawsuit against three former D.C. roommates
.
Terms of the civil settlement were not disclosed Wednesday. But in a far-ranging interview Kathy Wone spoke about her husband, her life since he died and the three men she sued.

"I am moving on. I want to spend the next 40 years of my life focusing on good," said Wone, a petite, reserved woman with a slightly dimpled, shy smile.

Wone said she looks forward to the next phase of her life, including a trip in October to Korea, where her mother was born.

Moving ahead without her husband, she said, has been challenging. She still smiles when she talks about Robert Wone, whom she referred to as the "cute" and "nerdy" man she had known for more than four years, three of them as husband and wife.

"I miss Robert every day," said Kathy Wone, an attorney at the American Health Lawyers Association.
I can't imagine the kind of nightmare Kathy Wone has had to live through over the last five years. But it sounds like she's tried to find some semblance of peace and move on. The unsettling truth is, we'll probably never learn what really happened to Robert Wone that night. More here:
Civil Settlement Reached in Robert Wone Murder Case
.