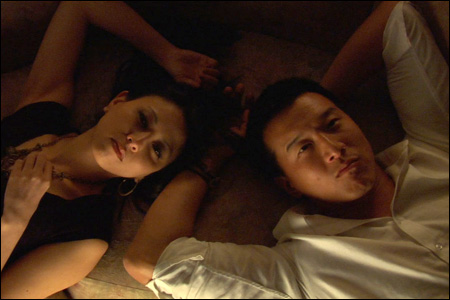 I recently heard from actor/producer Brian Yang (you may have seen him briefly on
Hawaii Five-0
last season as "Charlie Fong"), who tells me about
nightdreamblues
, an independent feature film that's currently trying to raise some cash for production.
Written by West Liang and directed by Nadine Truong, the film is a drama that centers on one summer night in Los Angeles, exploring the strained relationship between three high school friends, now in their 30s, whose lives have turned out to be nothing like they had imagined. Here's a one-minute temp trailer:
It's not much to go on, but it's something. Here's a little more of the pitch:
AGLINE | Sometimes, all you have is where you are.

LOGLINE | When three childhood friends reunite for an impromptu birthday celebration, their midsummer night of delirious abandon and reminiscence explodes into a daring search for hope and deliverance from the burden of their dreams.

PRODUCTION DICTUM | Having assembled an experienced and singly talented creative & technical team, 408 FILMS (Fog, The People I've Slept With, Supercapitalist) is uniformly focused on completing the entire scope of this project, from preproduction into post-production, then through its final phase of wide release.

But above all else, we simply can't wait to tell this thrilling, funny and charming story about the crisis of early life and the incomparable remedy of friendship!

There is unwavering commitment across the board to raise a production budget that responsibly fulfills the writer's intention and the director's vision -- and our hope is to activate the energy & critical mass of today's social media/grassroots networking to procure, at least, a PORTION of our support, so that we can absolutely share every single step of this joyful & unique journey with ALL OF YOU!
They've got a cast. They've got a crew. And they've got a vision. Now all they need is to meet their production budget to make it happen. That is, of course, where you come in. As I write this, the project's
Kickstarter
campaign is actually not too far from their $7500 goal. Your generous donation could directly help bring this project to the big screen.
Make a pledge
here
, And for more information and further updates, go to the
nightdreamblues
website
here
and the film's Facebook page
here
.