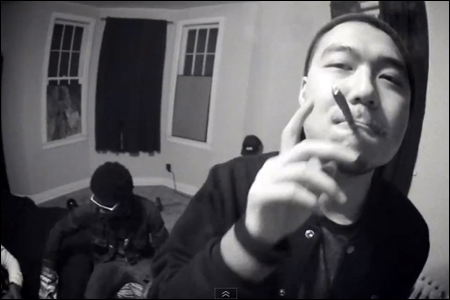 Here's the latest music video from our friend Dumbfoundead, up to his usual tricks in
"Green."
It's about smoking, um, cilantro... or something of a similar hue. Sure, it looks like it was shot on a random Thursday night for the cost of an order of onion rings. But I'm digging those beats. Check it out:
By the way, Dumbfoundead and his friends at
Knocksteady
are currently trying to raise some money for their "Knocksteady Live." It's sort of their version of a late night talk show, and they need some cash to help keep the thing moving. Thus, they're turning to you by way of a
Kickstarter campaign
. Read on:
KNOCKSTEADY LIVE

Knocksteady is a lifestyle portal dedicated to creating original content for a worldwide audience. Our most popular podcast, Knocksteady Live, is our version of a late night talk show. We bring in a variety of guests to showcase their talents through live performance and interviews.

WHY WE NEED YOUR HELP

After bootstrapping for a year with old equipment we had laying around the house, we'd like to take our show to the next level. With your help, we want to upgrade our beat up microphones, malfunctioning mixers, outdated video cameras, and blown out speakers. We hope the improved quality will help elevate the show.
I've tuned in a couple of times to the Knocksteady Live
podcast
and it's good stuff. For further information about the show and to make a pledge, go
here
. You'll be rewarded with fabulous pledge swag and gratitude. And to listen to all the Knocksteady Live podcasts, go
here
.