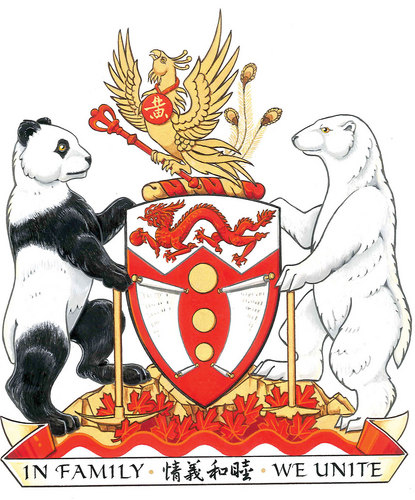 Wongs of Canada, unite! I actually thought that this was a joke at first, but it's true, and it is awesome... Next week, at 2011 Wongs National Convention in Toronto, the Wong family association will official unveil the new Wong coat of arms, pictured above:
Canadian Wongs get their own crest
.
The Canadian Heraldic Authority has granted permission for the Wong Kung Har Wun Sun Association to have their own unique family symbol -- the first time that a Chinese Canadian family association has been given the honor of a family crest:
"Since the first member of the Wong family disembarked in Victoria in 1858, the Wongs have made an indelible contribution to the development of our nation," said Claire Boudreau., chief herald of Canada in a letter to the association.

The Canadian Heraldic Authority is part of the office of the Governor General which has the power to grant armourial bearings in Canada.

"It is the first such honour for a Chinese-Canadian family association. It also symbolizes the melding of different cultures that defines our multicultural society," said Boudreau.

The irony of many of the first Chinese arriving in Canada as indentured servants and railroad workers being granted their own coat of arms is not lost on Caroline Wong, one of the directors of the Wong association .

The Wong coat of arms features a panda bear and a polar bear holding up a shield with a dragon. A phoenix sits on top of the shield.
Okay, so now Wongs all across Canada are represented by a panda bear, a polar bear, a shield, a dragon and a phoenix? Man, all you really need is a skull and/or a rose and you could seriously put that on an Ed Hardy t-shirt. Yeah, I said it.