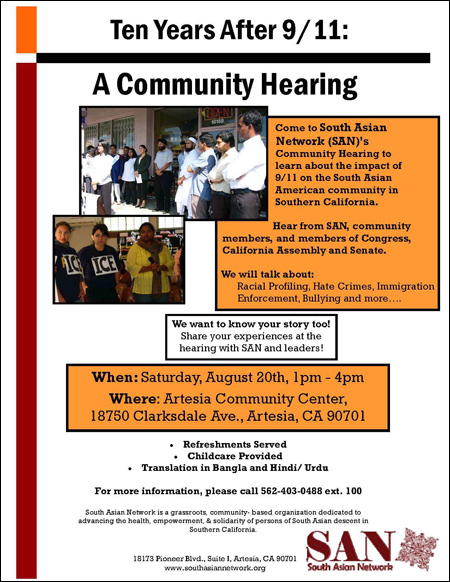 This weekend, the South Asian Network, South Asian Americans Leading Together and the State of California Commission on Asian and Pacific Islander American Affairs are hosting a community hearing about the impact of 9/11 on South Asians in Southern California and other community members.
The hearing will address issues of surveillance, racial profiling, immigration enforcement, hate crimes, bullying and workplace discrimination. It's happening Saturday, August 20 at the Artesia Community Center. Here are some more details:
TEN YEARS AFTER 9/11: A COMMUNITY HEARING

Hosted by South Asian Network (SAN)

Congresswoman Judy Chu (D-CA) Invited

WHEN:
Saturday, August 20, 2011
1:00 - 4:00pm (PST)

Where:
Artesia Community Center
18750 Clarkdale Ave, Artesia, CA 90701

Who:

Congresswoman Judy Chu, (D-CA)
Assemblymember Mike Eng
Assemblymember Warren Furutani
Ahilan Arulanantham, Deputy Legal Director, ACLU of So Cal
Shakeel Syed, Executive Director, Islamic Shura Council of So Cal
Manjusha P. Kulkarni, Executive Director, South Asian Network
Mou Khan, Programs Associate, South Asian Americans Leading Together
Community members impacted by post-9/11 policies and backlash
Legal experts and advocates

Ten years have passed since the tragedy on September 11th. As the nation mourns the upcoming anniversary, SAN also mourns the local loss within the South Asian, Arab, Muslim and Sikh communities across the country and in Los Angeles.
Hear from the South Asian Network, community members and public officials, and share your own experiences, ten years after 9/11. If you can't make it, the event will be live-streamed
here
. For further information, go to the Facebook event page
here
.