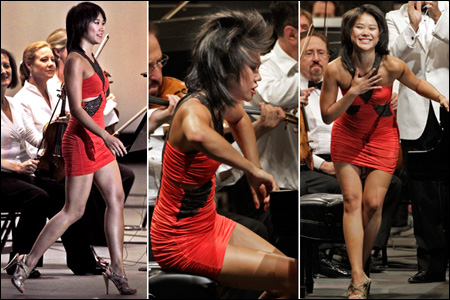 Chinese pianist Yuja Wang caused a hell of a stir when she played earlier this month at the Hollywood Bowl. But it wasn't the 24-year-old soloist's performance of Rachmaninoff's Third Piano Concerto that had people talking -- it was her teeny little body-hugging orange dress. Va-voom:
Classical gasp: Yuja Wang's dress at the Bowl causes a crescendo
.
Pianist Yuja Wang struck a chord at the Hollywood Bowl this month and not just with her performance of Rachmaninoff's Third Piano Concerto. The 24-year-old Chinese soloist had necks craning, tongues wagging and flashbulbs popping when she walked on wearing an orange, thigh-grazing, body-hugging dress atop sparkly gold strappy stiletto sandals.

In particular, Wang's outfit was a hot topic at the concert and continued after Times music critic Mark Swed's review appeared in print and online. While Swed praised her delicacy, speed and grace at the piano, his fashion comments — including the observation: "Her dress Tuesday was so short and tight that had there been any less of it, the Bowl might have been forced to restrict admission to any music lover under 18 not accompanied by an adult" — have touched off a spirited debate among music critics and bloggers about what constitutes appropriate concert attire and conversely, whether a critique of a performer's clothes has any place in a music review.
Daaaaamn! I need to see some more classical music! Honestly, I don't really see what the big deal is, but I guess the outfit was incongruous with traditional expectations of what to expect from a classical music performance. Psssh. Whatever. Here's the
review
that originally set off the debate. And more here:
Yuja Wang, dressed to kill
.