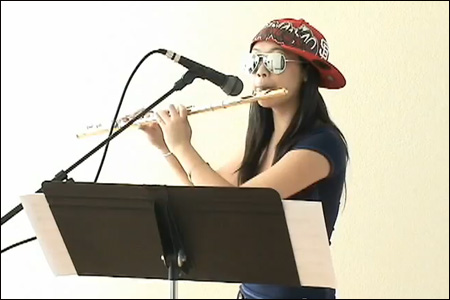 Check out this
cool video
of 15-year-old Annie Wu of Pleasanton, California rocking her rendition of "Three Beats for Beatbox Flute," which she performed last month at the National Flute Association's annual convention in Charlotte, North Carolina. In addition to top honors, her performance of "Three Beats" earned her the honor of Best Performance of a new work commissioned by the association. Take a look:
Ain't she the funkiest young flautist you've ever seen? On August 11, Annie became the youngest winner in the 33-year history of the National Flute Association's Young Artist Flute Soloist Competition:
Pleasanton girl is youngest-ever winner of national flute competition
.
To all the Asian Americans kids out there lugging around your flute case to orchestra rehearsal or marching band practice: don't ever let anyone tell you flutes aren't cool. Flutes are way cool. Keep rocking those flutes. For more from Annie Wu, check out her YouTube channel (FluteyCutie27)
here
.