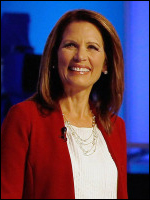 Oh, what now? Every day I am assaulted with the latest news about whatever lame-brained remark or crazy-ass proclamation that has escaped the mouth of Michele Bachmann.
At this point, I'm inclined to just ignore them, until I'm reminded that there is a significant number of actual human beings who think she should be
the next President of the United States
.
This latest one's a doozy:
Michele Bachmann: U.S. Immigration 'Worked Very, Very Well' Under The Asian Exclusion Act
.
At last night's CNN/Tea Party Republican presidential candidates' debate, Bachmann made
statements
effectively giving the thumbs up to the racist immigration policies of America's past, saying they worked "very, very well":
The immigration system in the United States worked very, very well up until the mid-1960s when liberal members of Congress changed the immigration laws. What works is to have people come into the United States with a little bit of money in their pocket, legally, with sponsors so that if anything happens to them they don't fall back on the taxpayers to take care of them.
I assume Rep. Bachmann is talking about the awesome system that passed the
Immigration Act of 1924
, which included the Asian Exclusion Act that established quotas and barred immigration from the Asia-Pacific Triangle. Meaning
hey you Asians, stay the hell out
.
Where America went wrong, according to the Congresswoman from Minnesota, was in the mid-1960s when the evil liberal members of Congress lifted those good ol' laws of yesteryear -- sigh -- tearing open the gates to let all those pesky foreigners into our great nation.
Oh wait. By pesky foreigners, do you mean me and my family? My parents -- and a lot of yours too -- immigrated to the United States during the wave that came after the
Immigration and Nationality Act of 1965
. Is Michele Bachmann saying America would be better off if they never immigrated here?
Is she saying America would be better off if I was never born?
I take offense to that.