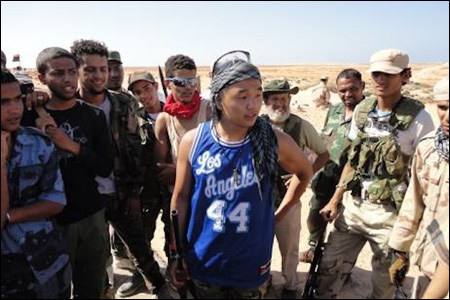 What did you do on your summer vacation? Bet you didn't join a revolution. But Chris Jeon, a 21-year-old math student at the University of California Los Angeles, decided to end his summer break with a bang. By joining the Libyan rebels. Like, in Libya:
Bored UCLA Student Joins Libyan Rebels
.
Bradley Hope, a reporter covering Libya's uprising, writes in Abu Dhabi newspaper The National that he recently made a curious discovery near An Nawfaliyah: Chris Jeon, a 21-year old University of California-Los Angeles math student. That's Jeon in the picture above, very unsafely resting his rifle on the ground with the barrel pointed up while his new buddies crowd around. Spoiler: He doesn't have any military experience.

Why'd he make the long trek from L.A. to L-iby-A? "It is the end of my summer vacation, so I thought it would be cool to join the rebels," Jeon told Hope. "This is one of the only real revolutions."

Hope describes Jeon as someone "who took a wrong turn on their way to the beach or the Santa Monica Pier," dressed in his L.A. jersey in a battlefield, asking dudes if they can teach him how to shoot an AK-47. Or trying to - he doesn't speak Arabic. "I want to fight in Sirte!" he declares, referring to one of the final strongholds of Moammar Gadhafi loyalists.
So let me get this straight. This guy has no military experience, does not speak Arabic, and basically decided to join the rebels because he "thought it would be cool"? The guy is either crazy, stupid or has some serious balls. (And really, just how easy is it to join a friggin' revolution?)
Some people fight for their freedom... others fight because, well, it's summer vacation. And at the end of break, he can pack up head back to Westwood, and he'll have some great stories to tell at the next frat party. That must be nice. More here:
American student Chris Jeon joins Libyan rebels
.